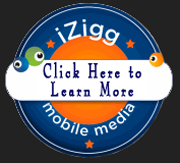 iZigg allows you to utilize the power of text messaging for all marketing and communication with customers, employees, and associates. You can send a message NOW or SCHEDULE it to send in at a future time and reach your targeted audience with ease.
The SIMPLE to use iZigg dashboard can be accessed from your computer or smart phone. You can even send mass text messages right from your own cell phone's standard text messaging platform.
It's 100% opt-in based, so you only send to people who want to hear from you and your business and reputation are protected. Recapture the business of every customer you ever serve or sell to. You can setup as many users from your company as you want and grant them access to only the areas of the dashboard you allow. You have complete control of all communication to your customers, employees and associates, and anyone you setup as a user can access and send messages to selected groups of subscribers from templates you create or they can create and send their own unique message.
With iZigg you and your sales team can: